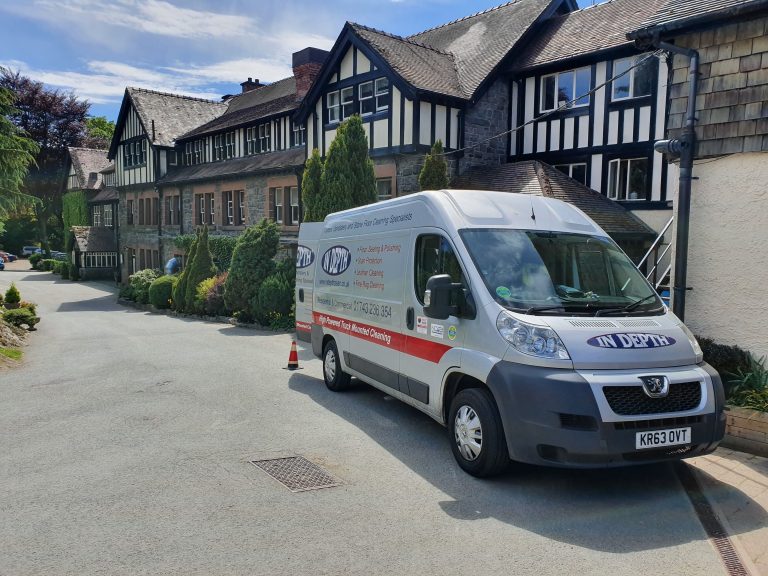 We used In Depth Cleaning on our old stone floors and the result is fantastic! The floors look so much better, and everything was completed to a top level of finish and detail. Thank you so much Chris! We will 100% be back!
Sarah A - Shrewsbury
Excellent job on cleaning 2 fabric sofas. From initial contact through to cleaning the sofas, Chris was professional in his attention to detail. Wouldn't hesitate to recommend this service to family and friends. Excellent service.
Steve - Shrewsbury
Chris has cleaned our carpets for our last 3 house moves over the years with a few upholstery jobs in between. I can't recommend him highly enough. Friendly, reliable, trustworthy, fairly priced and he's worked wonders on our carpets and tiled flooring. Absolute pleasure to do business with.
Clare D (Shrewsbury)
We contacted Indepth Cleaning as we required carpets and upholstery to be cleaned at very short notice. Chris and his team could not have been more helpful and obliging even working evenings and weekends to get the job done in our very tight schedule. The work was excellent and we would recommend the company to any business and will most definitely be using them again. Many thanks,
Marden Medical Practice
Chris was punctual, efficient and very reliable. He provided an excellent service and was polite and attentive to my elderly parents. I would strongly recommend In Depth Cleaning.
Jenny R (Shrewsbury)
Fantastic service from Chris Phillips at In Depth. We are so pleased with the results of Chris cleaning our stone floors - they are like brand new! Very professional and trust-worthy. Would recommend to all family and friends.
Kelly H (Shrewsbury)
Very professional, giving excellent customer service and a first class job. He took time to explain the procedure and ensured I was satisfied with the completed job before accepting payment. Highly recommended as a professional upholstery specialist.
Linda W (Shrewsbury)
Chris came to clean our limestone floor which was installed four years ago. Unfortunately it never looked as it should due to builders dirt and grime being left over them. The job Chris did was first class and we now have the floor we always wanted. He was very hard working and endeavoured to do everything we asked. We are very pleased with the job he did and would definitely use him again and recommend him to our friends.
Graham B (Shrewsbury)
I would highly recommend the service Chris provides. Chris was very thorough with the initial quotation and explained everything clearly. The sofa looks and smells amazing. Chris did a really great job of returning our sofa to it's former glory! ?
Melissa C (Shrewsbury)
Chris was very professional, was able to answer all my questions on how, and what he used, as I didn't want major chemicals. He cleaned all my carpets plus a wool rug. The result is like having a brand new carpet. The pile has returned, even in the more well used areas. A very pleased customer.
Sue F (Shrewsbury)
My husband found Chris on Google and contacted him about cleaning our natural Stone floors. Chris promptly came out to the house to introduce himself and have a look, advise and book us in. Chris is extremely polite and knowledgeable of his profession and his passion for the quality of the job shows immensely. Our floors look absolutely amazing, even better than when they were laid. Chris provides an excellent service and I would have no problem at all in recommending him to others. We have already booked to have him back to the carpets! Thank you Chris!
B B (Shrewsbury)